Desk Nameplates 
If you need Desk Nameplates you came to the right place! Let the people in or around your office, cubicle or work place know who you are. Be Somebody and get Desk Nameplates! Don't be Nameplate-less, in a world where all others have beautiful nameplates poised on their desk or wall within their cubicle or office. We have been making Desk Nameplates since the early 80's and we are efficient and careful along the way to ensure that we don't make mistakes. Custom work can often require patience and attention to detail. Our Desk Nameplates are available in virtually any color that you could imagine. Desk Nameplates are a staple in the office environment and without a Nameplates for Your Desk you are a Nobody.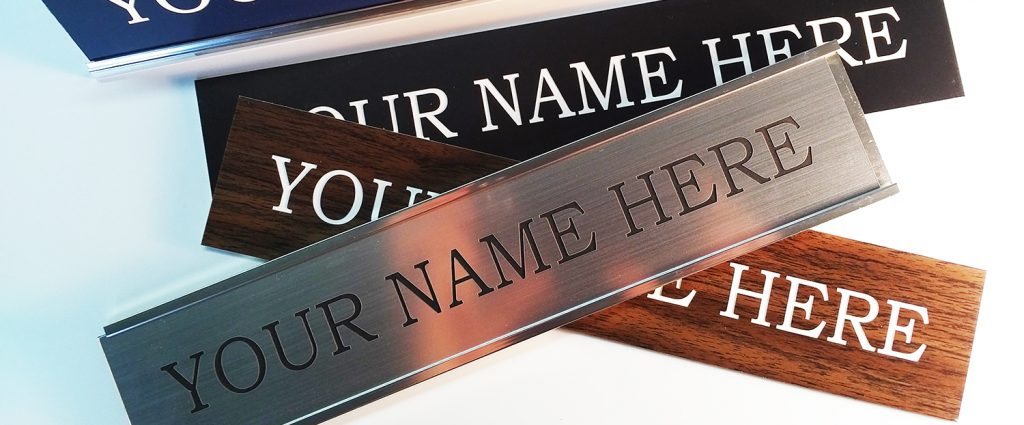 We can make Nameplates for your office or business and create them for your employees as needed. If you hire new employees all it takes is a simple e-mail sent to our production department, we can crank your nameplate and send it right back. We offer Desk Nameplates in any size you could ask for. Black, Gold, Silver and Dark Blue seem to be the favorite colors. We offer Desk Holders, Wall Holders and Cubicle Holders which provide an easy way to display your nameplate. 2″ x 10″ Nameplates are fairly popular but I really see no reason to make them so large. A 2″ x 8″ Nameplate is perfectly legible from a far and can end up saving you a couple bucks each in the end. If you need Nameplates for Your Desk, your office or business – we've got you covered! Our standard turn-around time for nameplates is normally five to seven business days, but if you're anxious to get named… we can make an exception ?
The Main Benefits of Laser Engraving Metal
Certainly, lasers are not the only thing that can do etch through metal. So, why use them as opposed to any other method? Well, lasers are excellent because they etch without much damage to the surrounding area, including stainless steel parts.  Laser Engraving is more accurate and can draw complicated shapes. If you are looking for accurate Engraving you should go with the laser-Engraving method. Moreover, the chances of warping the material being Engraving are much smaller since lasers don't use blunt force. Furthermore, since stainless steel is an excellent material for laser Engraving, you can enjoy the benefits of laser Engraving stainless steel, like:
A great lifespan;
High resistance;
Diverse Engraving options ranging from dark or light marks, deep or superficial or whatever your needs are, etc.
Flexibility
Since this is a flexible process, playing with laser beams is our passion and specialty. We can laser-Engraving, laser-etch, and laser-engrave anything you can think of. Creativity and originality drive us to create laser-Engraving metal parts, whether you have a small or big order. When considering laser metal parts, there is a world of possibilities to choose from: missing metal parts from other objects needing to be fixed, metal designs, metal nameplates, metal tags, keys, and more! That is why this is such a versatile process. And who the hell said metal is hard for laser-Engraving?  On the contrary, if you compare with other methods, laser-Engraving metal parts are one of the most precise, efficient, and easy to do processes. We can laser-Etch anything you can think of: custom metal parts in tags, images, nameplates, marks, etc. If you need your parts laser cut- we can certainly help with that! Click here!
 Desk Nameplates 
Call Us! – 804.234.4990