Plastic Mechanical Tags
We have a fairly simple process in regards to producing Plastic Mechanical Tags. Send us your data (we prefer an excel document) or you can simply email us the information. We use high end processing software to import the data directly into our engraving systems. Our process eliminates spelling/informational errors and prevents you from having to order additional make-up plates. Before we proceed we always send a proof before production of your Plastic Mechanical Tags. We send you a virtual mockup which displays the placement and engraving fields for each plate. For those that want a piece of mind that it will get done right the first, we can meet your needs. We have custom designed equipment specifically designed for Plastic Mechanical Tags.
A popular favorite substrate would be plastic. We have many options available for Plastic Mechanical Tags, whether your want your Tags mounted on onto a door, a piece of machinery or zip-tied to a fence or metal grating. Our Engrave-able plastic tag material is available in many colors! There are too many to list but chances are, if you need Plastic Mechanical Tags for your job-site we can get your squared away. Our tags are made in several different thicknesses and are available with or without holes. Some customers prefer to just go with a heavy-duty adhesive backing when they order tags from us, but that depends on the job spec itself. We are the go-to company for plastic engraved nameplates, tags and signs. Plastic Mechanical Tags are sometimes a requirement for your installation, job-site, or inspection. Custom Engraved Tags can be made and shipped directly to your job-site with the quickness. So if you are in need, all of our necessary contact information is below.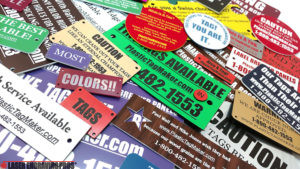 If you spill water, grease or machine oil onto a paper label, you can forget about whatever it said. Those words are gone for good. With a custom metal tag, though, you just wipe off the spill and keep right on going. Did you scrape your forklift against a wall during loading? If you hand-wrote anything onto the side of it, I hope you didn't need to know what was written there, because that Sharpie is scraped into illegibility now. Not so with a custom metal tag! Those words will still be clear as day. Custom plastic mechanical tags will take whatever you can throw at it and just keep on going. Not sure which tag fits your needs? Click here!
Whether you need just one custom metal tag or several thousand, we're the right choice to produce them for you. We can stamp in inventory tracking data and even serialize them for you if that's something you need. The only thing we can't do is figure out what you need without your input. Fortunately, you can solve that problem! Just fill out the convenient RFQ form at the end of this post and let us know what you're looking for. After that, we'll have everything we need to get cranking on your metal tags. Don't let accidents ruin your tags! If you need your parts laser cut- we can certainly help with that! Click here!