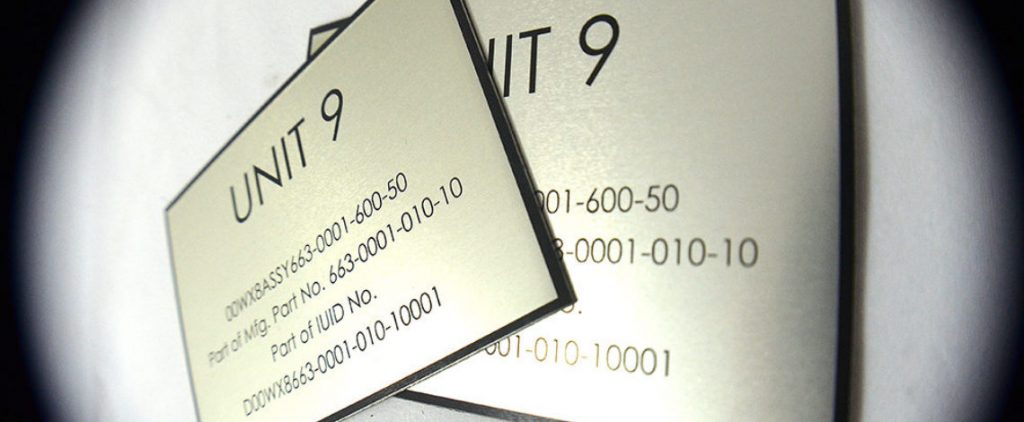 Metal name tags will let you easily track, identify and inventory your equipment. Whether you have just a few pieces or thousands, marking each one with individual metal name tags ensures that everything will stay individually distinct! We can do metal name tags on aluminum or stainless steel — or any other metal, really, though those are our most popular options. We've got a variety of options for making metal name tags, too. Etching is our go-to, but if you need greater depth, we'll laser-engrave them to any depth you need.  And if monochrome doesn't work for you, that's fine by us! We can screen print the metal name tags in any color you can name. Interested in custom shapes or thicknesses? We can handle those. Small or large, rectangular or squid-shaped, we can make the metal name tags you're envisioning. Your expensive machinery won't ever get lost once you tag it!
And with a metal tag, you know that it'll keep its readability for years to come. No matter what you need on the metal name tags — ID numbers, barcodes, company names or anything else — we'll engrave it for you. We can do any sort of order, small or large. So whether you need a dozen tags for a small event or more than a thousand for a warehouse full of items, we're ready to get the job done for you. We've been at this for years, and we're confident that no one can beat our prices, production values or speed. Simply stated, we're the best around! So let us put our expertise to work for you today! Fill out the RFQ form below and find out just how easy getting your tags can be.
Do You Need Metal Name Tags in Your Life?
Call Us! – 804.234.4990