Metal Engraving on Stainless Steel Looks Great!
Metal engraving on stainless steel is a permanent solution for applications that require marking and identification. Stainless steel is a rugged and cost-effective way to display information to last generations. Metal engraving stainless steel tags and data plates is a fantastic way to make sure that your information stays visible, no matter what. It easily fights off corrosion, extreme weather and excessive temperatures. It's the best bet when you need something durable and informative. In our metal engraving shop, random shapes, holes or designs are no problem for Metal engraving on stainless steel!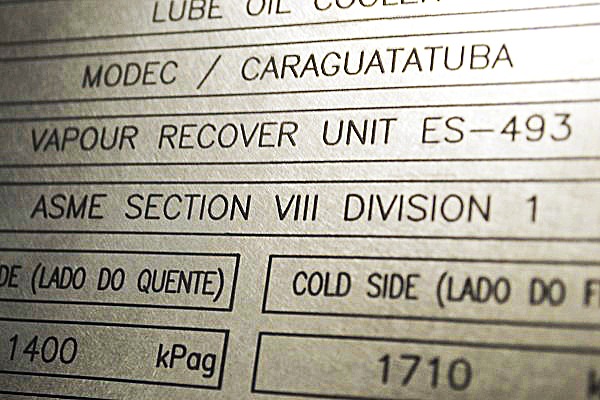 We work with 300 series stainless steel all the way up to 316. We can cut custom shapes with our lasers, so if you need a very specific shape, laser-cut holes or laser-cut corners, we have the tools to get it done. Our metal engraving work is the best around! The quality shows in everything we do. If you need your metal engraving done fast and well at a low price, talk to us. We can custom cut and engrave stainless in any size, shape or gauge. Do you need engraved stainless data plates? Not a problem!
The Main Benefits of Laser Cut Metal
Certainly, lasers are not the only thing that engrave through metal. So, why use them as opposed to any other method? Well, lasers are excellent because they cut or engrave without much damage to the surrounding area, including stainless steel parts. Metal Engraving on Stainless, a laser cutter is more accurate and can draw complicated shapes. If you are looking for accurate cuts, you should go with the laser-cut method. Moreover, the chances of warping the material being cut are much smaller since lasers don't use blunt force. Furthermore, since stainless steel is an excellent material for laser cutting, you can enjoy the benefits of laser cutting stainless steel, like:
A great lifespan;
High resistance;
Diverse engraving options ranging from dark or light marks, deep or superficial cuts, or whatever your needs are, etc.
Flexibility
Since this is a flexible process, playing with laser beams is our passion and specialty. We can laser-cut, laser-etch, and laser-engrave anything you can think of. Creativity and originality drive us to create laser-cut metal parts, whether you have a small or big order. When considering laser metal parts, there is a world of possibilities to choose from: missing metal parts from other objects needing to be fixed, metal designs, metal nameplates, metal tags, keys, and more! That is why this is such a versatile process. And who the hell said metal is hard to laser-cut? Metal Engraving on Stainless On the contrary, if you compare with other methods, laser-cut metal parts are one of the most precise, efficient, and easy to do processes. We can laser-cut anything you can think of: custom metal parts in tags, images, nameplates, marks, etc.
If you are unsure of whether or not we can use a substrate, feel free to send us an e-mail for your metal engraving on stainless steel project. You can even call us if you like, though the best way to get in touch with us is to complete the RFQ form below. We are no stranger to all sorts of metal engraving on stainless steel.  Whether you need something laser etched, annealed lightly onto the surface or laser engraved for depth, we're ready to do the metal engraving you need. We can screen print onto the stainless if you want specific colors such as a PMS Pantone. Custom metal engraving is one of our specialties! There's never any corrosion or loss of imagery in your graphic or information. We have specially equipped machinery to produce the best and most permanent markings in the industry for metal engraving on stainless steel  Set up your custom order with us today – e-mailing over details via the RFQ form is the best way to relay your information directly to us.
Metal Engraving on Stainless
– OR –
Call Us! – (800) 482 – 1553