Laser Engraving
Laser Engraving is the most permanent process and the best way to mark metal.  We're the best custom engravers out there! No other custom engravers do work as well or as quickly as we do. So when you need something done right the first time, we're the custom engravers to turn to. We'll make your product look great without a doubt! And that's true no matter what you send to us for your laser engraving projects!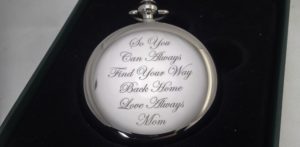 You may be picturing a tea tray or other classic engraveable item. We can do those, but as full custom engravers, we can do so much more. We've engraved sledgehammers and cleavers and we've made custom wooden bats and inscribed the leather cover of books. We've engraved pedestals, penguins and pianos. That part about the penguins isn't true, but only because they kept waddling away. If you can picture it and it will hold still long enough, we can engrave it! Nothing withstands the power of our laser. That's our custom engravers promise to you.
Laser Engraving  is the permanent way to mark it – it can be laser etched, annealed lightly onto the surface or engraved for depth.
We can Screen Print or Pad Print directly onto Stainless Steel if you require a PMS Color. Our Stainless comes in many thicknesses and we can custom-cut and punch it to any shape. Laser Engraving  is the best way to permanently mark it. It's an ideal application for equipment or machinery that requires tracking, updated information or service. We can Engrave, Etch or Screen Print various graphics, data, or or variable information onto Stainless Steel. And we can engrave Stainless Steel in various depths depending on what kind of depth/mark you're looking for. Laser Engraving is a scientific process that produces a superior product designed for tagging equipment and machinery in an industry that demands longevity and durability.
We're the go-to people for all sorts of work, from groomsman gifts to college-branded metal mugs. We love helping our customers put their mark on the world. Laser engraving is  forever! As custom engravers, it's our sworn mission to laser up as many things as we possibly can. All you need to do is point us at a target, and we'll get to work for you. We love to be laser engraving! We accept new work requests through the convenient RFQ form located below, or by email or phone if that's your preference. We're good for anything! We just want to put our lasers to work. Help us. Help us help you. Let's engrave together. Today.
Laser Engraving
Got A Project?
– OR –
Call Us! – (800) 482 – 1553