Everyone loves etching aluminum. It's got a number of fantastic properties, including being immune to rust, lighter than most metals and also much cheaper. Despite the lower cost, it looks as good or better than other metals, especially if you're etching aluminum! You can make it into coffee grinders or you can make it into wind turbines. Whatever you're making, etching aluminum allows you to give it your personal touch. Whether that's a logo, a company slogan, a name or a tracking number is up to you! Etching aluminum produces results that keep working for you. Indoors or outdoors, you'll get a nice, crisp-looking result from etching aluminum that you just can't replicate on paper or cardboard. Besides which, those materials get soggy in the rain and quickly bleach in the sun, not to mention getting torn. Aluminum sidesteps all of these pitfalls!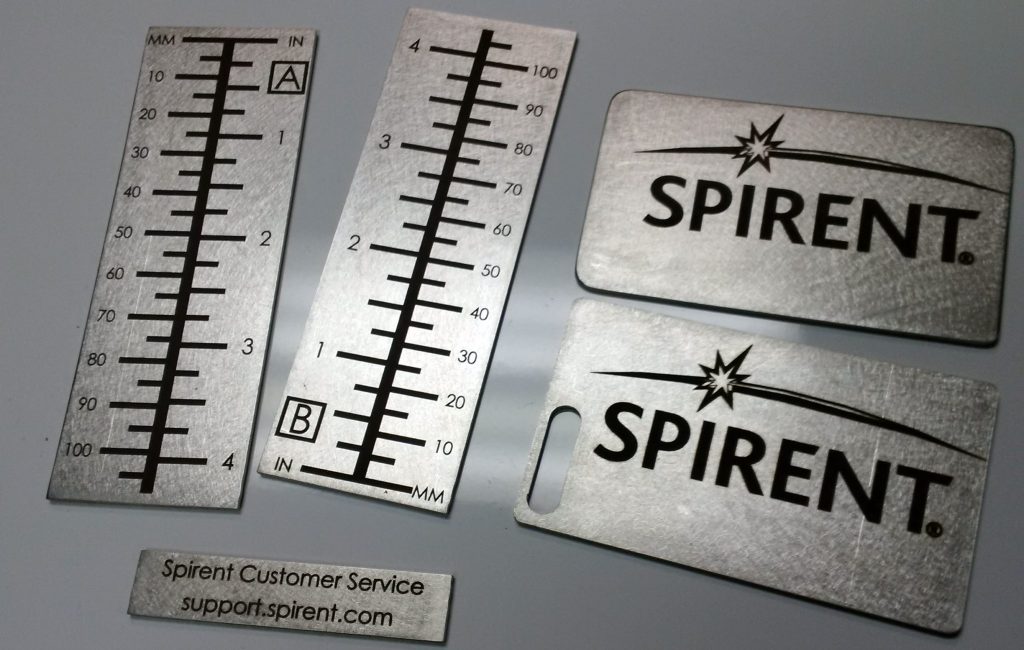 We've been etching aluminum for decades, so you can trust that we know what we're doing. Our expertise allows us to find the best solution for your project, whether that's etching aluminum table tags for a wedding or customizing a plaque for a park. Nothing fazes us! From the smallest tag to the largest sign, we're ready to tackle anything you can dream up. Don't think that etching aluminum is just for one-off projects. With our setup, we can produce any number of identical signs, allowing you to standardize your business! Or we can make nearly-identical ones, if you need differing serial numbers stamped onto machinery, or something similar. That way, not only will you be able to get the information you need at a glance, thanks to branding everyone who sees it will know your company name, too! That's basically free word-of-mouth advertising through inanimate objects like aluminum.
Laser etching aluminum is the custom solution for your unique needs. Over the years we have acquired many different laser machines – some small, some HUGE. We can engrave on virtually any surface, but laser etching parts is one of our favorites. Our laser engraver technicians can make your marks light or dark, deep or superficial. With Laser Engraving Pros you are working with a team of creatives & technicians who strive to bring your vision down to earth… and onto products that can last a lifetime – and if you lack a vision, we would be happy to help with that too! If you need your parts laser cut- we can certainly help with that! Click here!
Call Us! – 804.234.4990