Custom Cut Metal Tags : A better way to permanently record important information. There is not. Our laser-etched  Custom Cut Metal Tags will not corrode or fade, no matter how long they're in use. There are many options for your metal tags, starting with the metal itself. Do you want aluminum, stainless steel or something else? Whatever your choice, we can custom-cut and punch your tag to any shape, size or design you need. All Custom cut Metal Tags can be laser-etched or laser engraved for greater depth. Screen printing is also an option, if you need specific colors for your tag. Have some expensive equipment or machinery you need to track? Custom Cut Metal Tags are a perfect solution. Does your business require tracking, updated information/parts or service? We can print barcodes, QR codes and other information onto metal tags for you. If you need graphics or logos, we can handle that as well. No matter what you need engraved on the tag, we'll make it look great.
If you spill water, grease or machine oil onto a paper label, you can forget about whatever it said. Those words are gone for good. With a custom cut metal tag, though, you just wipe off the spill and keep right on going. Did you scrape your forklift against a wall during loading? If you hand-wrote anything onto the side of it, I hope you didn't need to know what was written there, because that Sharpie is scraped into illegibility now. Not so with a custom cut metal tag! Those words will still be clear as day. A custom cut metal tag will take whatever you can throw at it and just keep on going.
Whether you need just one custom cut metal tag or several thousand, we're the right choice to produce them for you. We can stamp in inventory tracking data and even serialize them for you if that's something you need. The only thing we can't do is figure out what you need without your input. Fortunately, you can solve that problem! Just fill out the convenient RFQ form at the end of this post and let us know what you're looking for. After that, we'll have everything we need to get cranking on your metal tags. Don't let accidents ruin your custom cut metal tags!
A custom cut metal tag is a game-changer in all sorts of environments, from home workshops to factories and beyond. If you've ever had to deal with faded, torn or peeling paper labels, you'll understand immediately why a custom metal tag can make your life easier every single day. No matter what you're using, from a stapler to an earthmover, you'll know that your custom metal tag will go through the dings, dents and destruction of day-to-day life and come out none the worse for wear.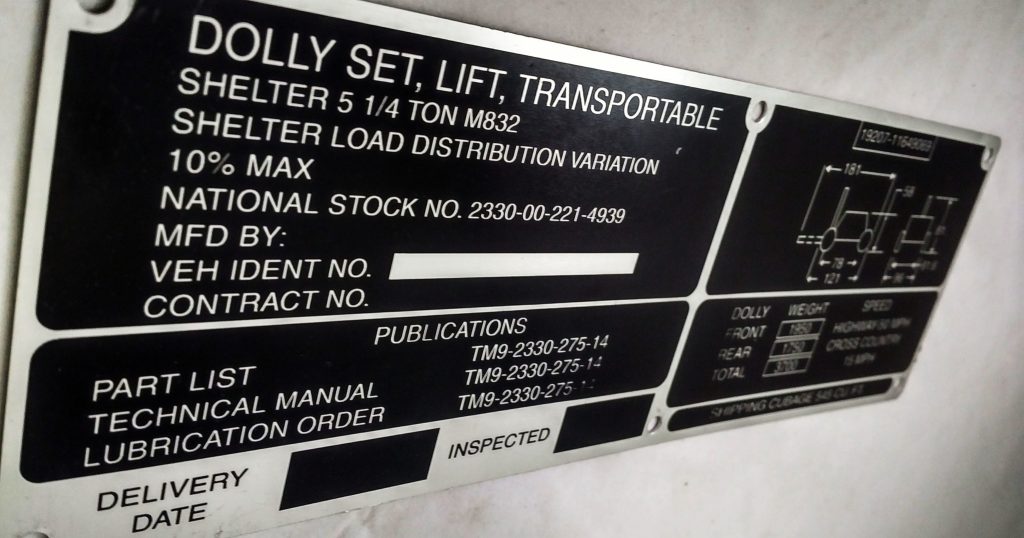 Custom Cut Metal Tags are widely used in aerospace, industrial and military applications worldwide. There's a reason for this! Custom Cut Metal Tags never wear out. We're ready to fill orders both large and small. If you only need a dozen tags, we're ready to help. If you need a thousand, we're prepared to fill an order of that size as well. We produce all of our Custom Cut Metal Tags in-house promptly and properly. These engraved tags are ideal for machinery that must be monitored or has a warranty that requires a service, or just for marking your personal belongings. Look around you. Do you have something nearby that doesn't have a tag on it? Can you really be sure that it's yours? Tag it, and never wonder again. Contact us today to start your order !If you need your parts laser cut- we can certainly help with that! Click here!
Do You Need Custom Cut Metal Tags – Made Just for You?
Call Us! – 804.234.4990