Plastic Engraved Plate
In regards to producing a Plastic Engraved Plate ,all it takes is for you to send us your data (we prefer an excel document) or you can email us the information. We use high end processing software to import the data directly into our engraving systems. We eliminate spelling/informational errors and prevent you from having to order additional make-up plates. We like to send a proof before production of your Plastic Engraved plate  We send you a virtual mockup which displays the placement and engraving fields for each plate.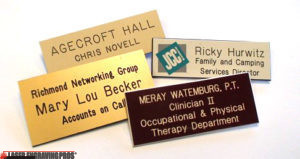 For those that want a piece of mind that it will get done right the first, we can meet your needs. We have custom designed equipment specifically designed for making a Plastic Engraved Plate. A popular favorite substrate would be plastic. We have many options available for making a Plastic Engraved Plate, whether your want your Tags mounted on onto a door, a piece of machinery or zip-tied to a fence or metal grating. Our Plastic tag material is available in many colors! There are too many to list but chances are, if you need us to make a Plastic Engraved Plate for your job-site we can get your need squared away. We can produce plastic tags  in varying thickness  with or without holes. Some customers prefer to just go with a heavy-duty adhesive backing when they order tags from us, but that depends on the job spec itself. We are the go-to company for plastic engraved nameplates, tags and signs. Providing aPlastic Engraved Plate (or thousands) is sometimes a requirement for your installation, job-site, or inspection. A Plastic Engraved Plate can be made and shipped directly to your job-site with the quickness. So if you are in need, all of our necessary contact information is below.
The Main Benefits of a Plastic Engraved Plate
Certainly, lasers are not the only thing that can do etch through plastic. So, why use them as opposed to any other method? Well, lasers are excellent because they etch without much damage to the surrounding area, including stainless steel parts.  Laser Engraving is more accurate and can draw complicated shapes. If you are looking for accurate Engraving you should go with the laser-Engraving method. Moreover, the chances of warping the material being Engraving are much smaller since lasers don't use blunt force. Furthermore, since stainless steel is an excellent material for laser Engraving, you can enjoy the benefits of a laser Engraved plate, like:
A great lifespan;
High resistance;
Diverse Engraving options ranging from dark or light marks, deep or superficial or whatever your needs are, etc.
Flexibility
Since this is a flexible process, playing with laser beams is our passion and specialty. We can laser-Engraving, laser-etch, and laser-engrave anything you can think of. Creativity and originality drive us to create laser-Engraving metal parts, whether you have a small or big order. When considering laser metal parts, there is a world of possibilities to choose from: missing metal parts from other objects needing to be fixed, metal designs, metal nameplates, metal tags, keys, and more! That is why this is such a versatile process. And who the hell said metal is hard for laser-Engraving?  On the contrary, if you compare with other methods, laser-Engraving metal parts are one of the most precise, efficient, and easy to do processes. We can laser-Etch anything you can think of: custom metal parts in tags, images, nameplates, marks, etc. If you need your parts laser cut- we can certainly help with that! Click here!
Plastic Engraved Plate
Call Us! – 804.234.4990